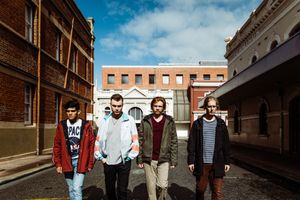 Great to chat with you all again! If you've been keeping an eye on our Instagram and Facebook pages you would have noticed a few studio shots and various other shenanigans - you've probably already guessed that we have some new music on the way! On December 1st we'll be dropping a brand new single, the first from a EP that we will be releasing next year. We've been locked away in rehearsal rooms, recording studios, London pubs and various other nooks writing, rehearsing, recording a TON of new material and we cannot wait for you to hear the first track that we are dropping on December 1st.
You won't have to wait long to hear us play it live either as we are supporting The Peppermint Club as they too launch a new single, Everything is Changing at brand new Perth venue The Sewing Room, on December 7th. The Sewing Room is on Wolf Lane, Murray St, and you can check out the event here! Click attending and invite some friends, we are pumped for this!
Our new single was produced by Dylan Olivierre of The Money War, who after having a massive year supporting Holy Holy, Polish Club and Meg Mac, are now off to embark on their own national tour - Check out the ticket link here!
So about this new song - Make sure you follow us on Spotify to be the first to hear it when it drops, but if you want the REAL exclusive and can't wait until then, subscribe to our mailing list and you'll hear it before everyone else! We'll email you a link a few days before its on Spotify and iTunes and anywhere else where the peasants consume their 'released' music..... ?

We LOVE the music that comes out of this city, and apart from the amazing artists we've already mentioned in this blog, just thought i'd share my disappointment that due to being extremely unorganised and late, I was defeated by the longest line ever seen outside The Bird on Friday night for Spacey Jane's No Way to Treat an Animal EP launch - I heard the show was a cracker (no, not just from friends inside, but literally from listening on the pavement outside) and do yourself a gosh darn favour and stream/buy the EP, its all thriller no filler, and its been getting a healthy dose of repeat through my humble bluetooth speaker at home.
See you all in a couple of weeks at the show, and subscribe to our mailing list to hear our new single before its released!

Cheers,
Matt