Hey all! We just got back from doing some recording and shows in Sydney, and thought we'd share the journey with you! On a non-Sydney related note, we hope you'll be able to see us at our first show in the new year on January 2nd at the Boston! KILLER lineup, click the poster below to check out the Facebook Event Page!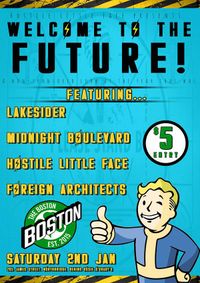 As you will know from recent years, one of our favourite (and stupidest) things to do is the YouTube Foreign Architects Christmas Special, this year taking the form of a CHRISTMAS COOK-OFF! We'll be battling it out against eachother in trying to cook the most monumental meal possible, please find the photos on facebook and instagram and comment with recipes you think would challenge the pants off us, and you'll get to vote on the the winners shortly!
5 THINGS WE LEARNED IN SYDNEY - (Moments you'll see in our video below!)
1. The Qantas lounge is AWESOME!
 Don't ask us how we got in - we'll never tell. But as you can hear from the excitement in our voices in the video, turns out there IS such a thing as a free lunch (and beer!)
You'll notice Andrew dressed up like a waiter in the video, and you'll hear me explain how I advised him that in order to get in we had to adhere to the dress code of no beachwear, thongs, or sportswear. I think he took that and ran a mile with it....
2. Organise how you'll get to the hotel from the airport BEFORE you travel!
I think this will be most people's favourite moment in our video below, and here's what we learned - It turns out in Sydney there is ONE station that is underground, has 3 flights of stairs, and NO elevators or escalators. We weren't aware we were getting off at this 1800s gem of a Train Station and learned that lesson the hard way.
3. There's two story trains!
Well, actually 3 stories - Spot the two mesmerised guys from Perth who are struggling to contain their excitement on the video!
4.
Hotel's apparently don't like you using their kitchen draws for underwear
Despite the drawer being right next to my bed, housecleaning insisted on putting the cutlery tray back in amongst my socks and underwear that I had reclaimed the drawer for on our first night. And don't even get me started on the rude people that kept calling "housekeeping" everyday at 1pm and waking us up! 
5.
At the Oxford Art Factory, you literally piss up against a wall
Enough said really.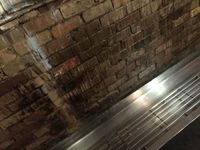 VIEW THE VIDEO HERE!