Why hey!
Its been a while between blogs, but not through lack of things to write about, more through lack of time to write about them as we've been busy little bees!
Thanks to all that helped spread the love with our last single,
Poisonous Pill
- We were thrilled to have so many flattering reviews on
triple j Unearthed
,  as well as the song being added to rotation on unearthed radio plus countless playlists on youtube/soundcloud and spotify. If you haven't followed us on
spotify
yet, we would love you forever if you did!
Not long after the song came out we were back in the studio to build on its success by recording another tune with producer Dylan Olivierre. Check out some of the pics on our
instagram for a peek at the shenanigans!
If you've been following our socials you'd know this band has undergone some massive changes over the last year - We've recently welcomed on-board bass player Callum Morrisson and guitarist Dylan Geiles, and this is the first single we've all played on, so we can't wait for you to hear the flavour that everyone brings to the new melting pot!
A lot has been asked about our progression from duo to trio to awesome-foursome and the reasons why - Its a question I love talking about, because it represents the natural progression of artists which is never a simple 'got better' but more moved left, moved right, up down diagonal. Does that make any sense? As the music has progressed in different directions, so has the soundscapes, the vibe that each song is trying to create and the message its trying to convey, and while it was a blast and liberating playing as a duo, there are things we wanted to do which wasn't possible with just the two of us on stage, and ultimately it came down to what would serve the music. There are also things you can't do on-stage with 4 people that you can do with 2, but this is the direction we have headed in and we couldn't be happier have two amazing musicians and people such as Callum and Dylan in the lineup, that truly care about the songs as much as we do. It was an incredibly easy process bringing these top blokes in and to those of you that haven't seen our live show in a while, now is the time!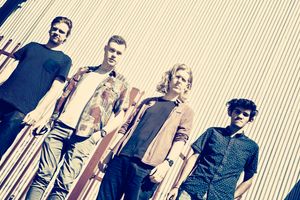 Speaking of duos, while in the studio we received some awesome news that we would be supporting none other than
Polish Club
on the Perth leg of their national tour, alongside our friends
The Money War.
Tickets to the show are available here
, and this tour is already selling out across the country, we would love to see you there! May 20 at Amplifier Bar!
Our new single is available on May 8th on all your favourite music platforms - What can we tell you about the song? Well, we could tell you everything about it, but we won't. We'll let you wait until you hear it then form your own relationship with it! That said, those that are subscribed to our mailing list may get a little surprise next week ;)
You can sign up here for the sneak preview!
Peace and love,
Matt